I don't believe that this is necessary until it is confirmed.
---
Recently MCR updated their website and published a post saying that possibly an MCRX tour will happen. It hasn't been confirmed by any of the band members. The following photo is from their official website.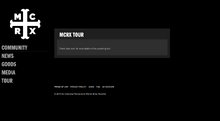 "Check back soon for more details the upcoming tour" is on the current page. Currently, it's only speculations and it hasn't been confirmed that there will be an MCRX tour but every Killjoy is hoping for the return of MCR.
This is the link to the webpage