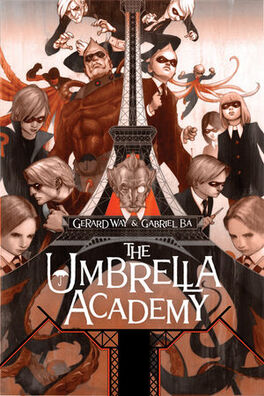 A comic book written by Gerard Way and illustrated by
Gabriel Ba
about a group of disbanded superheroes who reunite over the death of their adopted father, 'The Monocle' Sir Reginald Hargreeves, who collected the members of the Umbrella Academy after their birth, and who trained them to save the world from any threat. After his death, the members of the Umbrella Academy carry on his plan to save the world.
Ad blocker interference detected!
Wikia is a free-to-use site that makes money from advertising. We have a modified experience for viewers using ad blockers

Wikia is not accessible if you've made further modifications. Remove the custom ad blocker rule(s) and the page will load as expected.